President George H.W. Bush and Former First Lady Barbara Bush enjoy a moment out on
the deck of Cunard Line's Queen Mary 2 during the flagship's 27 April 2012 Transatlantic Crossing.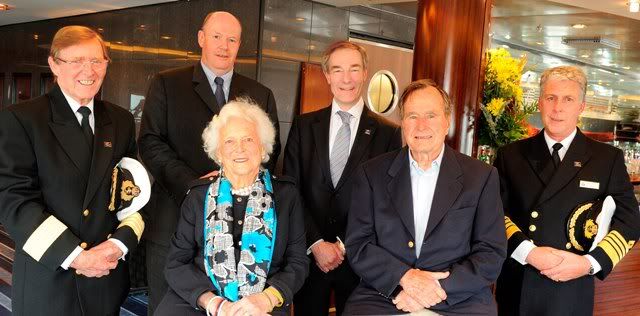 President and Mrs. Bush received a warm welcome aboard Queen Mary 2 from (L-R): Hotel Manager John Duffy,
Cunard President Peter Shanks, Carnival UK CEO David Dingle, and Captain Kevin Oprey.



President and Mrs. Bush join Captain Kevin Oprey on the bridge of Queen Mary 2.
4 May 2012
– The 41
st
President of the United States, George H.W. Bush, and former First Lady Barbara Bush, joined by their daughter, Dorothy, and granddaughter, Georgia, sailed their first
Transatlantic Crossing
aboard
Cunard Line's
flagship
Queen Mary 2
this week. The seven-day voyage originated in Southampton, England, on 27 April and arrived into New York this morning.
Upon embarking in Southampton, they received a White Star welcome in the ship's Commodore Club by Peter Shanks, president of Cunard Line; David Dingle, CEO, Carnival UK; Captain Kevin Oprey, master of
Queen Mary 2
; and John Duffy, the ship's hotel manager. During the greeting, President Bush was heard to say of their
Queen Mary 2
voyage, "I've been looking forward to this for weeks!" Barbara Bush agreed, "You've been talking about nothing else for months!"
"We are honored to have welcomed President Bush and his family as guests aboard Queen Mary 2," said Peter Shanks, president of Cunard Line. "Throughout our history, countless dignitaries have enjoyed the height of leisure and luxury offered aboard Cunard's Transatlantic Crossings, and we are pleased that the President now joins in that legacy."
During the voyage, the President and First Lady enjoyed production shows in the Royal Court Theatre, experienced the world-class Canyon Ranch SpaClub® and attended one of Cunard's new Apple iStudy enrichment classes. By night, they could be seen dining with the captain, as well as in the Queens Grill Restaurant, La Piazza and
Queen Mary 2
's specialty restaurant, Todd English.
"Barbara and I have always wanted to make a Crossing, and it gives us great joy to be able to do so aboard Queen Mary 2 with our family and close friends. We have enjoyed the voyage from its beginning, and our experience has been made even better by the amazing crew and staff. We will always have fond memories of our Transatlantic Crossing," said President Bush.
Cunard's legendary
Transatlantic Crossings
reflect the pinnacle of adventure and civility in ocean travel.
Queen Mary 2
is the only liner offering regularly scheduled Transatlantic service, ranging from seven-day voyages between New York and Southampton, England, to eight- and nine-day Crossings offered to Hamburg, Germany. Travel aboard
Queen Mary 2
offers the ultimate luxury cruise vacation, rich in classic British traditions, fine cuisine and stimulating on board enrichment. This year's season includes several new offerings, such as new theatrical productions, jazz music workshops, lecture programmes, dining menus and spa treatments.
For more information about
Queen Mary 2
or to book a voyage, consult your Travel Agent, call Cunard toll-free at 1-800-728-6723 or go to
www.cunard.com
.
# # #
About Cunard Line
Cunard Line, operator of the luxury ocean liners Queen Mary 2, Queen Victoria and Queen Elizabeth, has long been synonymous with the quest for new discoveries and the epitome of British refinement since the company's first paddle-wheeled steamer, Britannia, crossed the Atlantic in 1840. Cunard voyages bring together like-minded travellers who seek a civilised adventure and relish the Cunard hallmarks of impeccable White Star Service, gourmet dining and world-class entertainment. Today, Cunard offers the only regularly scheduled trans-Atlantic liner service and continues the legacy of world cruising which it began in 1922.
World's Leading Cruise Lines
Cunard is a proud member of World's Leading Cruise Lines. Our exclusive alliance also includes Carnival Cruise Lines, Holland America Line, Princess Cruises, Costa Cruises and Seabourn. Sharing a passion to please each guest and a commitment to quality and value, World's Leading Cruise Lines inspires people to discover their best vacation experience. Together, we offer a variety of exciting and enriching cruise vacations to the world's most desirable destinations. Visit us at
www.worldsleadingcruiselines.com
.